A safe working environment is a good working environment
DMD4000 is an evidence-based autonomous disinfection solution that removes up to 99.9999% (log6) of the bacteria and other harmful microorganisms.
Virus prevention is now a continuous challenge. Choosing DMD4000 you can achieve clean+ to highest level disinfected environment (log3/log6) depending on your needs. DMD4000 resets the indoor environment to prevent the spread of infection regardless of room conditions in places like offices, waiting rooms, hotel rooms, fitness centers and other heavily trafficked hubs.
DMD4000 dry mist technology consists of water and biocide allowing to spray all impassable surfaces where access by hand would be a challenge. DMD4000 secures a high-level and consistent quality of disinfection – every time.
Do we need to turn off our ventilation system while the robot disinfects? 
Yes, it is a necessity to turn off your ventilation system to achieve the documented effect of room disinfection. We provide you with an integration module for DMD4000, which enables a connectivity so that DMD4000 can control and manage your ventilation system. Thus, can it automatically turn on and off the ventilation system without the need of interference.  
How does 'dry mist disinfection' effect the fire alarm? 
The dry mist biocide does not affect fire detectors of different functions e.g., smoke- and line-based ones. Therefore, is no considerations regarding your fire alarm needed
In the toilets, the risk of bacteria spreading is high. The risk is high because they are visited frequently and by many different people daily. This is way we often recommend that the toilets be disinfected daily.
Can the robot use the elevator itself?
Yes, – The robot can be set  to use the elevator itself. However, since no  elevators are alike, this is a set up in collaboration with the building's elevator operator.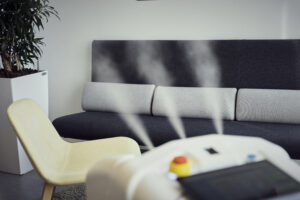 Does the robot leave any traces once it has disinfected?
No- The disinfectant leaves no trace. Neither on shiny surfaces nor delicate fabrics.