Technology known from labs and hospitals
DMD4000 is the first of its kind in the market. Instead of UV light, our disinfection robot uses dry mist consisting of 92% water and hydrogen peroxide. DMD4000 is an evidence-based automation solution built on well-known technology from laboratory and hospital disinfection. DMD4000 sets a new standard as the robot doesn't require manual operation when disinfecting offices, fitness centers, schools and institutions at night.
Your safe solution – cancels the spread of infection
DMD4000 automatically disinfects all surfaces in a room – walls, tables, chairs, keyboards, in every nook and corner, behind the TV, around the toilet and more, leaving no trace. No need to worry about documents, furniture or computers getting damaged. The solution ensures that any remaining bacteria or virus is removed.
You and your employees can safely return to work – to a bacteria-free and safe environment.

Exceptional disinfection – regardless of the room's conditions
DMD4000 calculates the necessary dose of disinfectant liquid in every room. The spraying technology guarantees evidence-based and high quality disinfection. Equipped with 360* safety scanners, the robot adjusts to the surroundings, which prevents collision and allows easy access in places with narrow passage and limited space.



Requires no staff

The robot is autonomous and does not require manual operation by staff or technical personnel once set up, which saves you labor cost. DMD4000 is also equipped with a calendar function, making it easy to plan disinfection times and adjust the purity level.
Dry Mist Disinfection Robot DMD4000
Do we need to turn off our ventilation system while the robot disinfects? 
Yes, it is a necessity to turn off your ventilation system to achieve the documented effect of room disinfection. We provide you with an integration module for DMD4000, which enables a connectivity so that DMD4000 can control and manage your ventilation system. Thus, can it automatically turn on and off the ventilation system without the need of interference.  
How does 'dry mist disinfection' effect the fire alarm? 
The dry mist hydrogen peroxide does not affect fire detectors of different functions e.g., smoke- and line-based ones. Therefore, is no considerations regarding your fire alarm needed
In the toilets, the risk of bacteria spreading is high. The risk is high because they are visited frequently and by many different people daily. This is way we often recommend that the toilets be disinfected daily.
Can the robot use the elevator itself?
Yes, – The robot can be set  to use the elevator itself. However, since no  elevators are alike, this is a set up in collaboration with the building's elevator operator.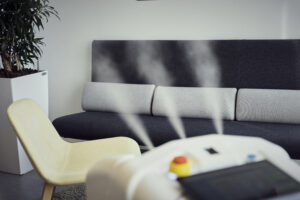 Does the robot leave any traces once it has disinfected?
No- The disinfectant leaves no trace. Neither on shiny surfaces nor delicate fabrics.