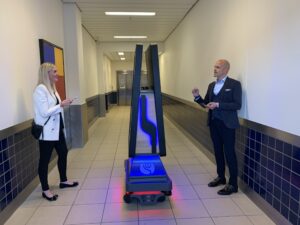 Exciting News Alert! 🥁📣
Would you like to be among the first to interact through a game on a robot? Join us at Rosengårdcentret tomorrow at 4 pm.
Tomorrow marks the momentous day when we unveil a groundbreaking method of engaging with your customers. In collaboration with our innovation partner, @ECE Denmark / Rosengårdcentret, we are launching a fresh loyalty concept that promises novel shopping experiences, blending cutting-edge robotics with gaming.
But, rest assured, we won't keep you waiting until tomorrow – catch a sneak peek in the video below.
See you at Rosengårdcentret on Friday at 4 pm.
Stay tuned! 🚀
#news #alert #sneakpeek #thrilled #staytuned