"Much more value for money"
"Customized to your company needs"
"Let the robot speak for you"
"What is the name of your robot?"
"The robot also talks…" Information robot by day and disinfection robot by night
"Good morning and welcome …" – "Remember to disinfect your hands and keep distance to each other".
With DMD4000 you get a big opportunity to promote messages through soundtracks, while the robot is driving. For example, to welcome costumers and employees, to remind people about the covid19 guidelines, or it could be to inform your guests about how to find the conference room.
DMD4000 can run in multiple specific areas on specific dates and times. It automatically drives back to charge when it needs it

– A supplement for future receptionist.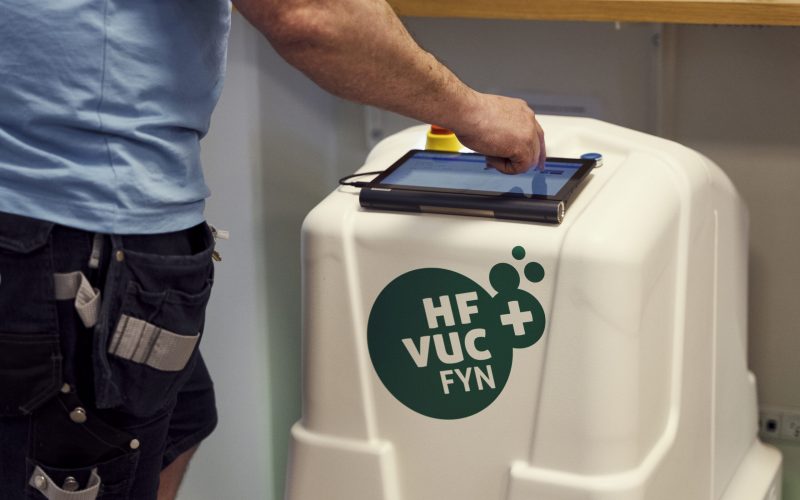 "The robot's appearances your company wishes and needs. We customizes the robot so it match to your business. It could be the color, logo, name etc. "
Want to hear more? We are ready by the phones on +45 93872270
Do we need to turn off our ventilation system while the robot disinfects? 
Yes, it is a necessity to turn off your ventilation system to achieve the documented effect of room disinfection. We provide you with an integration module for DMD4000, which enables a connectivity so that DMD4000 can control and manage your ventilation system. Thus, can it automatically turn on and off the ventilation system without the need of interference.  
How does 'dry mist disinfection' effect the fire alarm? 
The dry mist hydrogen peroxide does not affect fire detectors of different functions e.g., smoke- and line-based ones. Therefore, is no considerations regarding your fire alarm needed
In the toilets, the risk of bacteria spreading is high. The risk is high because they are visited frequently and by many different people daily. This is way we often recommend that the toilets be disinfected daily.
Can the robot use the elevator itself?
Yes, – The robot can be set  to use the elevator itself. However, since no  elevators are alike, this is a set up in collaboration with the building's elevator operator.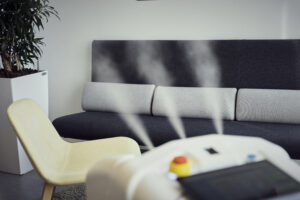 Does the robot leave any traces once it has disinfected?
No- The disinfectant leaves no trace. Neither on shiny surfaces nor delicate fabrics.